This is a shorter version of another previous post (
http://wagengineering.blogspot.com/2009/04/ny-state-future-electricity-prices-and.html
).
Here is a quick summary of a different NY electricity future – one with affordable (but not dirt cheap) home-grown renewable energy, and hundreds of thousands of jobs created in the process to make and install the units that will harvest this energy. It is a non-wimped out version of the new tentative NY State Energy Plan (which is better than the old one):
http://www.nysenergyplan.com/NYS%20Energy%20Plan%20-%20Interim%20Report%20-%20March%2031%202009-web.pdf
). This feed-In law based scenario would supply NY's present level of electricity consumption, and would position the state to transition residential and a lot of commercial applications to renewable electricity based heat (including some ground sourced heat pumps, for those who can afford them). Yes, it is time to think of replacing natural gas use, not increasing it, unless you crave future economic (and other) danger and foolishness. This is very important, because North America's natural gas supplies are not infinite, either – in fact, they are mostly consumed, and the replacement costs for new supplies – usually from smaller fields that are more expensive to tap – are rising. You should be able to spot the trend for natural gas, and why dependency may not bode well in the future - for more on this topic, see
http://www.theoildrum.com/node/5323#more
:
Of course, to undertake a conversion to a renewable future before that option becomes meaningless due to Global Climate Changes (and not for the better, either), those who invest in renewable electricity production need to be isolated from the wildly unpredictable fossil fuel supplies and prices. That can be done with a Feed-In Law option (see
http://www.allianceforrenewableenergy.org/why-reps.html
and
http://www.greenenergyact.ca/
), and at lower costs (on a complete basis) than can be done using quotas and government subsidies. Besides, both the NY State and U.S. Federal governments are way less than broke, and we really don't have the money (huge amounts, too) to shovel to extraordinarily rich people and corporations (often not even U.S. citizens or companies) in the form of tax credits and deductions – which have to be made up by U.S. taxpayers who are lower on the Food Chain (lower income). Feed-In Laws are not a guarantee of easy money, but they do provide a lot less risk to investors and all those dependent on a growing industry (tired of being unemployed…?) compared to variable pricing/quota/tax payer subsidy system that evolved by accident in the U.S. Nowadays, large scale bankers will charge a hefty premium to finance such projects due to the high risk of the U.S. arrangement relative to Feed-In Laws.
First, here is a snapshot of NY electricity consumption – currently about 2.5 GW out of 16.44 GW (a GW is a gigawatt, or a thousand megawatts (MW)) on a delivered basis is supplied by renewables, and of that, 80% is supplied by a pair of NYPA hydropower projects (Niagara Falls, Massena). That hydropower can be made for less than 0.5 c/kw-hr, largely because the capital investments are largely or all paid off and there is a lot of energy made with very few people needed to do it. On average, NY's electricity consumption is fairly constant. Also, notice how industrial usage has declined – this is where the most of the real wealth in the state comes from, especially now that the gig is up on the Wall Street Casino and related financial machinations. If you need a snapshot of why our real regional unemployment is so high, there it is – we import other's unemployment when we import their manufactured goods, with little of value (want some funky financial products?) for exchange. And no, medical campuses and dreams of alchemy (bioinformatics) allowing someone(s) to (maybe) strike it rich won't fix that problem…it will just keep taxes high, along with a few salaries for pseudo-academics who know how to milk the system (and the dreams) of those dispensing state monies.
Source: U.S. Dept of Energy/Energy Information Agency (EIA)
But, lets assume a mix of all of the above is used in a project to replace all of NY State's polluting electrical generation (nukes, oil, natural gas, coal) with predictable priced renewables, using a Feed-In Law arrangement over the next 20 years – the "go for the gusto" version of a state energy plan.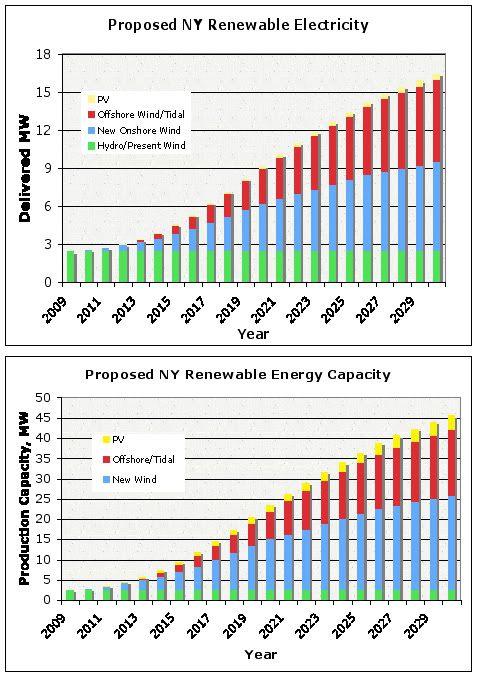 Sources of renewable electricity applicable to NY State include onshore wind, offshore wind, tidal (underwater turbines in Long Island Sound) and run-of-river turbines (Niagara, St Lawrence, Hudson, etc). Photovoltaics (PV), while possible, are quite pricey – between 5 to 10 times more costly than on-shore wind. The Feed-In Law arrangement is used to facilitate this, since the alternative is not privately finance-able unless massively tax subsidized – with the benefits of these subsidies almost exclusively going to the upper 2% of the wealthy OF THE WORLD – not necessarily of this country - care of the recent financial disaster that is still unwinding.
Such an investment to convert NY to a more sustainable mode - no government money needed – would be financed by amortizing the capital over long terms (more than 20 years) and would paid back by electricity consumers. This is somewhat similar to what was done when the utilities also generated power which they then sold – in this case, it would be done with an environmental conscience, something that apparently was absent when foolhardy projects like Nine Mile 2 or "natural gas everywhere" were foisted on the public.
This would result in a lot of manufacturing jobs somewhere, along with associated installation jobs. These employed people would then support others (groceries, bars, schools, dental, doctors, etc) – on average, 5.5 others per manufacturing job (the multiplier effect). The beauty of renewable installations is that there are many advantages to local manufacture – including the high cost to transport the renewable energy generation devices from distant locations (also avoids currency fluctuations).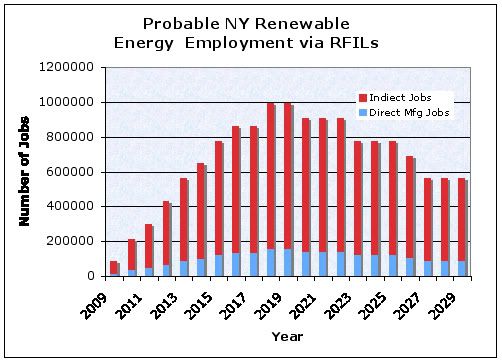 Of course, if these are not made in NY, the indirect jobs mostly vanish along with the manufacturing ones, and then the only benefits are in less CO2 pollution, less really nasty rad-waste generated (and permanently stored at the site of the generation), and less money exported from the state to pay for those fossil fuel imports. Of course, without the manufacturing, significantly fewer people would be able to afford ANY energy, let alone renewable energy, and that is a pretty bleak future.
The next question that pops up is how much more would this cost? Let's assume that onshore wind goes for 10.5 c/kw-hr, offshore wind, tidal and run-of-river goes for 14.5 c/kw-hr and "big PV" costs 50 c/kw-hr, based on delivered energy costs of $6.67 million/MW, $10million/MW and $49 million/MW (or $2 million/MW, $4 million/MW and $7 million/MW on a capacity basis), respectively. These figures are also used to calculate the job figure – at 15 jobs/million dollars of capital investment.
Also, keep in mind that natural gas costs are unlikely to remain stable, or at current low prices, either as a result of a process known as supply destruction (existing prices do not justify current further investment in wells and/or pipelines) or via well depletion (this averages about 40% per year per well). Let's take either a 3% per year or 6% per year rate of price rise for natural gas (these are very low estimates – the average is over 10% per year for the last decade). Shown below is what a typical NY residential consumer would experience: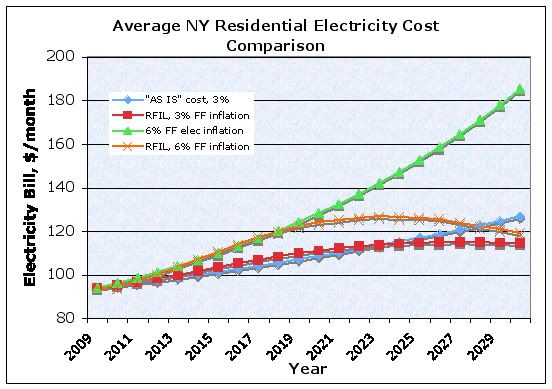 As the renewable portion of the New York State electricity mix increases, the effects of the natural gas price rises become more muted, and by year 10, this renewable electricity mix is actually suppressing prices/dropping prices. Here is another view, showing the cost per month change on a yearly basis – that is, what is the change in the average monthly bill from year to year (the 3% price rise for natural gas is shown – at a 6% natural gas price rise, really significant differences occur):
Due to the way that NY's current electricity is priced (an arrangement managed by the New York Independent System Operator, or NYISO – see
http://www.nyiso.com
), electricity prices are not the average of all electricity produced but instead, the highest price of the last bit of electricity needed to satisfy a given hour's demand (marginal pricing). Thus, even if 95% of the electricity made in a given hour was bid in at 4 c/kw-hr and 5% was bid in at 10 c/kw-hr (average would be 4.3 c/kw-hr), the price for all electricity would be 10 c/kw-hr. In general, natural gas derived or even more expensive oil sourced electricity is most often the "last bidder", and it tends to set electricity prices in this state. The NYISO system is supposed to insure competition between generators in the 11 zones in the state, but since coal, nuclear, hydroelectric, oil and natural gas sourced generators have drastically different production costs (and for oil, gas and sometimes coal, these prices vary drastically with time, and are unreliable), what happens is that natural gas using generators compete with other natural gas using generators, etc. Furthermore, electricity bills are a combination of NYISO (the generation price) and all the connection, transmission and distribution costs/prices. Last year, the average residential price for the generated portion was about 8.36 c/kw-hr statewide, though this varied by region. Believe it or not, the Western region (Zone A) was the least costly in the state. Odds are, "merchant wind" tends to have little effect on NYISO prices – especially at the present time, though this may change as the renewable content increases, and if it increases over time.
Prices for oil tend to be set world-wide, for natural gas, continent wide, and for coal, regionally (train transport is a big factor). Enormous subsides are provided to fossil fuel burners as either military protection, tax subsidies (oil and gas well depletion, for starts) and for now, effectively a free pass for CO2 pollution (the current RGGI CO2 pollution allowances are a pittance of what is needed to really behavior modify polluter's actions, and to switch to non-polluting electrical generation approaches). The king of the subsidy racket is nuclear fission – no catastrophic insurance (Chernobyl Day is April 26 – remember? -
http://en.wikipedia.org/wiki/Chernobyl_disaster
), worth $250 to $500 million PER YEAR per reactor – assuming it would even be possible to obtain it - and no adequate rad-waste trash disposal system (ever hear of West Valley?) exits to this day in the U.S. - The Yucky (Yucca) Mountain option is now off the table. In fact, every form of energy production, and many forms of energy consumption are highly subsidized in most every country, and the U.S. takes a back seat to no one in that category. This arrangement really begs the question of what is defined as competition in NYISO, and also whether that is likely to be just an abstract economic theory, similar to the one about how risk can be valued via Collateralized Debt Obligations (CDO's) using really great computers and really highly paid banker/traders.
In other words, competition needs quotes in the NYISO system – it is not a simple concept in the least. But, as gas costs go up (there are only a few pipelines, and those only have a few major suppliers), so will electricity prices. However, it will not be a steady and predictable rise – instead, there will be price spikes (averaging every 3 years in the U.S.) which will do big damage to the economy, followed by price collapses, when supply destruction occurs. Oil and gas prices are related, and gas and coal prices are also related due to the fact that some users can switch between fuels – hence, more complication, and potential for some not-so-pleasant "Black Swan Events" (
http://en.wikipedia.org/wiki/Black_swan_theory
).
On the other hand, renewable fuels (with the exception of biomass, like wood used to fire boilers, which will be priced in competition with oil and gas) have thoroughly predictable prices. These prices are largely a function of the installed capital cost, which in turn is highly dependent on the interest rate and term of the loans used to finance them. To connect renewable electricity prices to the highly variable (and also game-able and scam prone, at least on a short term basis) fossil fuel costs in a time of peak Oil and Peak natural gas production is folly on an epic scale (although there does seem to be a lot of that going around these days). Or, maybe it is a desire by some to do some gambling – sort of like basing your house mortgage interest rate on who won the Kentucky Derby, or the sports game of your choice. Who would do something that silly (AIG?)…..
So, what do you think of the future laid out here? Odds are, if you own a nuke or a coal burner, it's not your cup of tea. And if you think that Global Warming and Peak Oil/Peak Gas are hoaxes for the tin-hat crowd (for example, someone with a high Inhofe Scale rating – see
http://www.grinzo.com/energy_old/info_nuggets/inhofe_scale.html
), well, it is also not going to be a "fave". But, there are 19.4 million New Yorkers, and there are bound to be differing opinions. That comes with the turf.
Dave Bradley